The Made With Love Giveaway Hop starts on tomorrow! We're getting excited around here! Before the fun begins, I'd like to introduce my next sponsor, Urbanwalls!
Urbanwalls is an etsy shop full of beautiful vinyl wall decals for your home. She makes incredibly unique, fun designs! Vinyl wall decals are a hot trend right now, and definitely spice up an empty wall with little effort. To go for an even more functional style of decal, choose a chalk vinyl wall decal that features a chalkboard finish! Whether you just want a fun area for the kids to be creative, to keep your grocery list where you won't loose it, or to artistically display your house rules, there is a chalk wall decal design for you!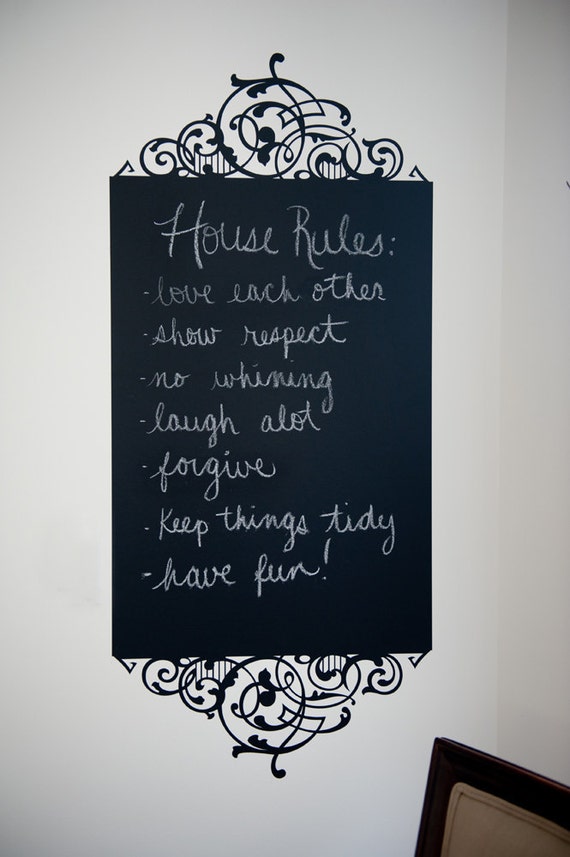 I received the House Rules chalk wall decal for this review. It's beautiful, and the scrolling detail at both ends are so elegant! I would imagine most people would choose to put this decal in the kitchen, dining room, or family room. It all depends on the wall space you have (it's
22.5" x 43")
, and what you ultimately decide to use it for. I put it in my hallway, so I can see the decal from my kitchen. I think this would be a great alternative to an ugly whiteboard, and would work well for posting tonight's dinner for your family to see!
This being my second experience with a wall decal (see my first one here!), I was eager to see if was any easier the second time. It was not unfortunately! This decal is much larger than the last one, so it was quite a challenge for me. There is so much beautiful and intricate detail in this decal so I made sure I
rubbed and
pressed down the design really well. As I began carefully peeling the transfer tape off at a 45 degree angle, I checked that all the edges and design at the top were sticking well. I pressed the decal down as I went, taking off the backing just before pressing down the next area against the wall.
Despite making sure the decal was taught as it was applied and that I it was pressed down and rubbed onto the wall properly, I ended up with horizontal ripples all the way down. I noticed this at the very beginning, and even with my best efforts, was unable to smooth them out, or avoid them as I continued down. This could have been my error (I have no idea what I could have done to cause it or avoid it though), but I did notice the vinyl is thicker on the chalk decal than the regular vinyl decal I received last time. Maybe the rolled up chalk decals do not do well during shipment? Maybe I could have unrolled it and let it "rest" before applying? I'm not sure, but either way, Buddy loves it so it doesn't matter!
The black chalkboard vinyl is great for Buddy to write on like mom and dad, and there is literally tons of room on this long decal for everyone to do there thing.
The chalk vinyl works like it should, allowing you to write and erase over and over again. Just like a chalkboard! There are 5 chalk decal designs to choose from, so you'll definitely find at least one that suits your needs!
Price: $42

The Verdict: I love vinyl wall decals. Although this one did not turn out prefect, it was fun and has been great for Buddy! They make for a decorative, functional design that your friends and family will envy!

Buy It: Check out
Urbanwalls on Etsy today!
**Come back to my blog during the Made With Love Giveaway Hop from November 8-13 and enter to win ANY one vinyl wall decal up to $50 USD from Urbanwalls!**
Disclosure: I received the above mentioned product(s) to facilitate this review. No other compensation was received. This is my completely honest opinion above and may be different from yours.

This promotion is in no way sponsored, endorsed or administered by, or associated with, Facebook.