I get it, we all want the best for our kids...I certainly do. But really, sometimes there are some crazy parents that go a bit overboard...and I'm not just talking about the parents who refuse to let their kids ride the bus* or parents that still wipe their ten year old's butt. No, I'm talking about seriously crazy, ridiculous parents...
Parents who would buy these items...
Are you freaking serious Mom?
1. The No Shock Baby and Toddler Safety Helmet. Yes. People buy these. Yes, that's people, as in plural. There are enough parents out there who are so scared of little Matthew bumping his noggin on the coffee table they've decided to make him wear protective headgear. I bet that son will never be playing soccer or football or croquet... I'm going to guess Mom and Dad will put him in something less dangerous, like flower arranging...
2. Baby Knee Pads. Yes, they're in the same category as the helmets. Okay, listen up everyone...I have some very important information to share. Your baby is going to fall. Your baby is going to scrape her knees and bump his head and get bruised up. There will be blood. There will be tears. You absolutely can not wrap your child in bubblewrap and think they will have a normal childhood...believe me, I know....I tried to do it with the first one...and therapy? is really expensive...
Could this be any more disgusting?
3. The Nosefrida Snot Sucker. It's a manual snot sucker...you know, because using the regular one isn't traumatizing enough for both of you, now you're supposed to suck the snot out of your baby's nose...just you, a long tube, and your mouth. Ew...
4. Baby Designer Anything. If I don't drape myself in Gucci then I'm definitely not getting my baby a Louis Vuitton rattle or a pair of Kate Spade kitten heels. And yes, I do see parents dressed head to toe in Wal-Mart's finest while little Susie is decked out like Apple. Um no, if anyone in the house is going to be wearing $150 pants, it's going to be the person that doesn't crap in their pants...
5. The Wipes Warmer. I realize some people absolutely wouldn't dream of not using one and I don't get why. No baby has ever perished from using a room temperature wipe. We adults don't wipe our butts with warmed up toilet paper, and I don't think any of us want to. Seriously, I can think of way better baby items to spend $24.99 on, like, uh, diapers. Believe me, it's a huge waste of a purchase...
There you have it...a list of items not to buy...because if I see your kid wearing a helmet that's not intended to correct plagiocephaly, I may** have to laugh at you. You've been warned...
*which refers to everyone except me, because my kids? are never going to ride the bus...they are far too precious...but please, put your kids on, because really? you're clogging up car line...
**read: will most definitely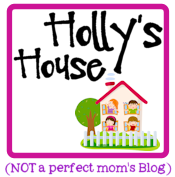 The author of
Holly's House-NOT a Perfect Mom's Blog
is a shameless self promoter, so at this time she absolutely begs you to follow her blog, you can click the button above or click
here to subscribe to her feed...
Holly is also on Facebook, and naturally, is often times hilarious over there...so go follow her...
And if Twitter is your thing, click here to follow her over there too...but seriously? Go follow her, or she may cry...seriously...