I love trying various skin care products, especially when they are all natural and healthy for your skin. Alchemilla is a large line of natural, handmade, plant-based skin care and aromatherapy products that are free of any toxic ingredients or synthetic fragrances. I'm excited already! The ingredients in Alchemilla promote healing and nourishment for your skin, and not just a simple cleanser. Their skin care is also created at a
100% wind powered facility, and many of their organic plant ingredients are grown in their own
herb garden in

Oregon.
When I saw a review opportunity for an Exfoliating Face Wash Cream from Alchemilla, I expected nothing more than another wonderful skincare product. Not only is it packed with natural and organic ingredients that nourish your skin, but it's an exfoliator too (and boy do I need an exfoliator!). The ingredients are well-rounded, and offer a wide range of benefits in just this one product. You get the jojoba for exfoliation, the antibacterial rosemary and calendula, antioxidant sea buckthorn berry, and moisturizing shea butter just to name a few. I'm all about natural skincare, but I also want an effective product. I want products that not only work, but knock my socks off. I've tried many, many skincare products on my skin. Many have been wonderful, and some have gone beyond my expectations like this one.
First, I love the texture of the exfoliating natural jojoba. They aren't too rough to the point that they feel like they're ripping your skin apart. Instead, they are gentle, yet very effective which was surprising to me. My skin feels soft, supple, and silky after using the Exfoliating Face Wash Cream just one time. It really created a smooth texture that allowed for great makeup application afterwards. I generally have issues with lots of peely dry skin, but I saw a lot less of this after using this product. I also noticed that my face was not immediately taught and dry right after drying off. I could feel the moisture from the cleanser was really well-absorbed into my skin already.
The fragrance is, well, fragrant. I know I've expressed my dislike for more floral fragrances in the past, but this one was very tolerable and I didn't have a sneezing spell at all! It's actually quite beautiful, and light.
One of the only things I would say about this product that is a little off to me is that it's not really a cleanser like the name implies. It's really an extra product to use as your occasional exfoliator. You're supposed to use it only about 3 times a week, AFTER you cleanse and moisten your face already. I'll be honest, I didn't do this. I just used it as a face wash since it's so creamy and it worked like a charm.
I've mentioned the
EWG's Skin Deep Cosmetics Database
on my blog before. It's a fantastic resource for consumers to research skin care/makeup/body products. Products are given a "hazard" rating based on their ingredients. Alchemilla is rated very low for all their products. All of them are rated as a 3 or less, which is incredible considering the variety of purposes their products serve. The
Exfoliating Face Wash Cream is only a ONE for their hazard rating! I'm SO excited about this, and thrilled to have found a super natural exfoliating cleanser that actually works and works better than I originally expected.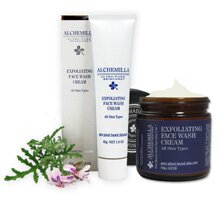 Connect with Alchemilla on and Twitter!
Price: $26

The Verdict: I love facial exfoliators and this one seems to really target my peely dry skin issues. Their ingredients are impressive and I'm thrilled to have found such a great skin care line with low hazard ratings. I'm looking forward to trying more products from Alchemilla in the future.

Check back on Wednesday, 9/21 to enter for a chance to win your own Exfoliating Face Wash Cream!
Disclosure: I received the above mentioned product(s) to facilitate this review. No other compensation was received. This is my completely honest opinion above and may be different from yours.

This promotion is in no way sponsored, endorsed or administered by, or associated with, Facebook.
I received one or more of the products mentioned above for free using Tomoson.com. Regardless, I only recommend products or services I use personally and believe will be good for my readers.