There's a brand new Etsy shop out there and you've GOT to check it out! A good friend of mine is getting creative to help support her family, and she has certainly started out with a BANG! At Crazy Leggies, you'll find a fabulous selection of leg warmers for infants and kiddos age 6 months+, and she'll even create custom made baby shoes for you in sizes
0-3, 3-6, 6-12 and 12-18 months!
Here's what my friend has to say about her shop...
Hi, my name is Nicole. I am a work at home mom of two, Lucas who is 2 and Daniel who is 3 months. Life is busy around here, but I am getting the hang of working at home and having two children. I have been sewing for my children for quite some time and I decided that maybe I should start selling some of my creations. So far, my shoes seem to be quite the hit. I have sold many of them through

facebook and to many different friends of mine. I hope to continue the journey as I reach out to more and more people through my Etsy and this facebook page.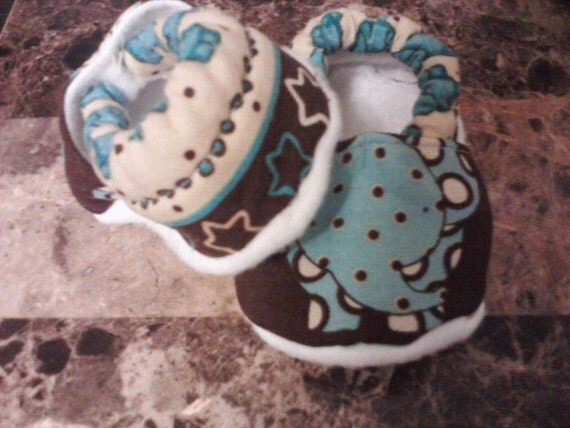 Totally cute!! As a cloth diapering mama (well, we're kinda potty trained now...so sad!) I totally love baby leg warmers as a quick and easy way to avoid having to undress your kid just to change their diaper. They're also fabulous for potty training since it's one less thing Buddy has to pull down!! :) These are also just so much fun to pair with a cute skirt for a girl, or you could even pair these with a short sleeved tee for little ones or big kids too. Baby shoes?! I can't get over how adorable they are! These look to be incredibly well-made, and I know she's getting tons of custom orders already. They have elastic around the heels to help them stay on, but they won't leave red marks! Nicole will work with you on getting the print you want for your baby shoes so they're exactly what you want!
Use code Reynolds10 at checkout on Etsy for 10% off your order! Limited time only!
Win It!
One winner will receive a
$10 code to Crazy Leggies!
Fill out the Rafflecopter form below to enter!
a Rafflecopter giveaway
Disclosure: I did not receive any form of compensation for hosting this giveaway. This is my completely honest opinion above and may be different from yours.

This promotion is in no way sponsored, endorsed or administered by, or associated with, Facebook.